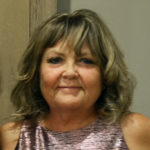 Following the death of my husband in a hit and run incident when I was 45, I was told about a self-help group called WAY Widowed And Young, which remains the only national charity in the UK for men and women aged 50 or under when their partner died. I initially resisted joining, I suppose because I had preconceived ideas of a group of sad, tearful people, probably dressed in black, earnestly discussing their grief.
Shortly afterwards I decided to give the group a try. What was the worst that could happen? I found myself with a social life and it was a social life full of friends who really understood what it was like to be without my husband. It became a life full of hope and one in which I felt there could be a good future, not just an existence. Very soon I found myself becoming an area contact and becoming increasingly involved.
This was, of course, before the huge changes in our ability to access to social media and I began to realise that at 50, there was nothing easily available to those widowed in their 50s or 60s. Had I been widowed just 5 years later, I would have had to cope with the awful situation I had found myself in without the support I had had – without like-minded, understanding friends, without other people around who 'get it'.
Way Up was about to be born
I talked with the then Chairman of WAY, Caroline Doughty, who encouraged me to consider developing a group for those chronologically challenged by being widowed after their 51st birthdays, when WAY could no longer be of help.  Being very much a people person, my only stipulation to starting a new group was that it was to be in no way computer based. However, Caroline suggested that I set up a Google Group and a few weeks later I found myself the owner, no less, of a computer-based forum.
My hope was that Way Up would develop a network of local groups where real people could meet and spend time together, make friends, share experiences, have fun. The virtual world of the computer is all very well and being able to chat to others online is fantastic but there is, as we all know, nothing like face to face contact.
What has happened with Way Up has gone so far beyond that original hope. Still neither a charity nor a business, we remain free to members and are run by a very small team of volunteers who are widowed themselves, so truly understand. No longer the only group open to those widowed in 'middle age' we remain a bit different precisely because of that private, online forum facility which provides a safe, members-only place to chat.
These days, as well as this virtual support there are meets every day which range from 2 people meeting for a cuppa and cake to 50 people travelling to India, from camping to glamping, to boutique hotel stays. You name it- we've probably done it and our safe and secure forum allows member only access to such meets.
We have laughed together and cried together and formed the sort of friendships we find non-members often yearn for – until they find out what it is that binds us together!
Put simply, we are all just trying to build new lives but building those lives with understanding in them somehow seems to work.
Gaynor