Way Up is an active, online self-help group aimed at providing mutual support to those who have been widowed primarily in their 50's and 60's. Based in the UK, our members only forum is an important aspect of our group which is a way to initiate friendships, to exchange views and to give and to receive care and support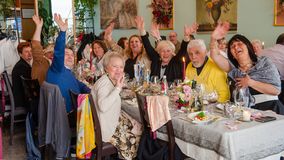 It is a group with a positive, forward looking attitude to rebuilding lives and discovering that lives can be good again, that we can be happy once more. We all have our own stories to tell and experiences to share and need not be isolated.
Way Up is a place to laugh with gusto and without guilt. It is a place to exchange banter and to share jokes – even very bad ones!
It is a place to share experiences.
It is a place to find friendship, to care for others as well as to be cared for.
It is a place to share support, to lean on others when you need to, and to allow others to lean on you.
It is a place where every member is entitled to the same respect and care without comparison or judgement.
The forward-looking desire of our group does not suggest any indifference to the pain of another's grief. It does not suggest a lack of compassion. It does not mean that one can't post of one's despair or anguish. What it does mean is that we have the desire to move forwards with hope that we can continue onwards with fulfilled lives.
We do not have a formal network of local groups or area organisers. Events are organised by any of our members, for any of our members, and have taken place locally, regionally, nationally and even internationally! From a simple meeting over coffee and cake, to holidays all over the world, only members can gain access to details of events, meetings or indeed to other members.
We do not offer professional counselling or help. There are many other websites better placed to offer help in this way, some of which can be found in our links section.
Please be aware that we are not a dating site.
*By widowed, we mean the loss of a partner regardless of circumstance, location within the UK, occupation, marital status, state of health, gender, ethnicity, religious belief or sexual orientation.
Please note that because Way Up is moving to a new home soon, we have had to close to new members at this time.
We shall be back in the New Year, so please make a note of this web address and come back to join us then.
In the meantime, we wish you well.
Take Care.
Way Up.